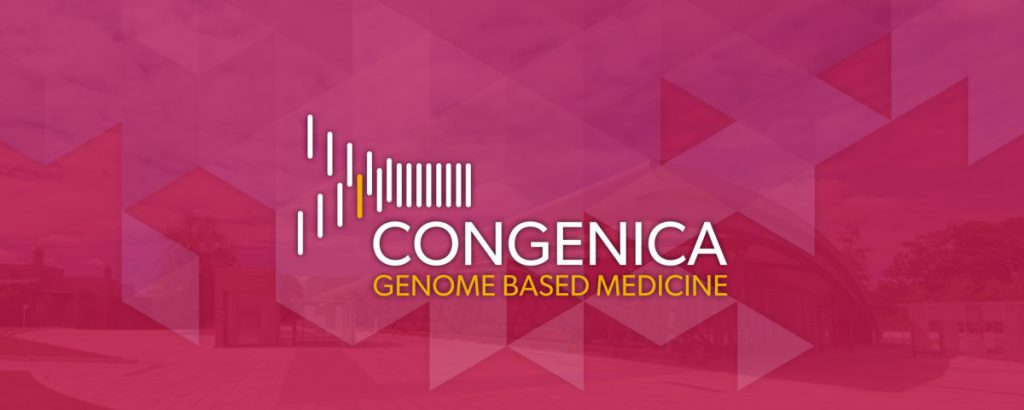 World leading technology receives £1M seed funding from Cambridge Innovation Capital
Definitive diagnosis of children with rare genetic diseases may take minutes rather than years in the near future thanks to a novel technology developed by Congenica, a start-up on the Wellcome Trust Genome Campus founded by six world-leading genome scientists. Congenica has received up to £1M from Cambridge Innovation Capital (CIC) to scale up its SapientiaTM technology to improve diagnosis of genetic diseases.
Dr Tom Weaver, Congenica CEO, explains that its Sapientia technology will end the current "patient odyssey" where families must endure a cycle of clinic visits to find a diagnosis often with few definitive results: "There are about 7,000 rare diseases that affect more than 75M people in Europe and North America alone. Only 3,200 genes have so far been associated with these rare disorders. Some of these conditions are extremely rare making them very difficult to diagnose, currently requiring lengthy and expensive genetic testing.
"However, the underlying cause of most of these diseases is a mutation in a single gene that changes its function. This error results in a disease, and if you are able to find the mutation and correlate it with the disease symptoms, or phenotype, then you have the capacity to provide a 'definitive diagnosis' and this is achieved with Sapentia.
"Sapientia forms part of a front-line service that supports clinicians to deliver a faster more robust diagnosis. This in turn reduces the anxiety of patients and their families, and the cost to healthcare providers."
Minister for Life Sciences, George Freeman MP says: "This investment from Cambridge Innovation Capital will improve our understanding of how disease really works, help to diagnose patients quicker and will continue to create jobs in the eastern region. We want to lead the world in genomic medicine to develop more personalised treatments that can make a real difference to NHS patients, especially in rare disease and cancer."
Congenica's technology improves diagnosis of rare genetic diseases in the near term but, importantly, will also provide new insights for future screening and treatment of both rare and common diseases.
The Sapientia platform is based on the pioneering work of Dr Richard Durbin, leader of the Genome Informatics Group and Acting Head of Computational Genomics at the Wellcome Trust Sanger Institute (WTSI).
Dr Durbin developed techniques to identify, annotate and interpret whole genome DNA sequence data while working on the 1000 Genomes Project. These methods, which form part of Sapientia, are being used within the groundbreaking "Deciphering Developmental Disorders" (DDD) study, which aims to improve diagnosis of rare genetic disorders in children.
Dr Matthew Hurles, Scientific leader of DDD, Senior Group Leader at WTSI and a co-founder of Congenica explains;"Sapientia combines clinical information about the patient, information about their gene mutations and background information about the disease phenotypes of other patients with those mutations. We have worked very closely with clinical geneticists to ensure that Sapientia can present this information in a way that is easy for clinicians to interpret."
Processing and interpreting genetic and clinical data is a complicated procedure that can often take clinical geneticists several days. The DDD study has shown that, once high quality genetic data have been generated, by bringing all the relevant information together, it is possible to interpret these data to reach a definitive diagnosis for some families in just a few minutes.
Professor Phil Beales, Honorary Consultant in Clinical Genetics at Great Ormond Street Hospital (GOSH) and Clinical Director of Congenica, believes genome sequence-based approaches are revolutionising the treatment of genetic conditions.
Prof Beales says: "70% of rare genetic diseases affect children and are life limiting. Many of these diseases a pediatrician may see only once or twice in their career, but collectively they are common: at GOSH we see thousands of undiagnosed cases a year.
"The more than 10,000 patients that are participating in the DDD study are children for whom conventional testing has failed to give a diagnosis for their condition. Within DDD we are now able to provide a definitive diagnosis for many of these families.
"For parents this information is vital, as a positive diagnosis may lead to effective treatment, and even where cures are not yet known it allows them to gain support from the relevant patient groups and to plan their lives."
Dr Hurles continues: "The DDD study has provided invaluable proof of concept, but it cannot recruit more patients beyond next year. The CIC funding injection will allow Congenica to continue the excellent work started by DDD and Genomics England. In particular we will be working closely with clinicians and the NHS Genomics Medicine Centres to overcome the analytical challenges presented by whole genome data sets and make this advanced testing more available to patients."
The potential of Congenica to revolutionise the diagnosis of rare genetic diseases was appreciated by Dr Robert Tansley of Cambridge Innovation Capital (CIC), an investment company established by leading institutional investors to help retain UK innovation in the Cambridge cluster. CIC provides long-term finance to help build large technology companies, reversing the trend where companies are bought before they fulfil their potential.
Dr Tansley says: "There are currently 200,000 genetic tests performed each year in the UK just for rare diseases. The current technology used in these labs looks at single genes or small panels of genes. Although next generation sequencing is now available to look at all the genes at once, a big obstacle to adoption is the lack of available tools to analyse and annotate this information.
"We see Congenica's technology as a powerful enabler that can realise the potential for a radically different type of genome analysis service. Our funding will allow Congenica to scale its technology, which has been independently validated by Genomics England, to offer a definitive diagnostic service."
Dr Weaver explains that , while all the genetic and clinical data on DDD participants remains at WTSI to protect their privacy, Congenica has licensed the DDD technology and knowhow from the Wellcome Trust Sanger Institute for commercial application. He says: "The seed funding from CIC will allow us to work closely with clinicians, geneticists and the diagnostic service providers to get a robust set of tools into regular clinical use, backed up by an international knowledge base that is essential for definitive diagnosis.
"Cambridge is an exciting place for biomedical research and development, the Genome Campus is second to none and we have access to the scientists on the Cambridge Biomedical Campus who are leading the world in this area.
"Our technology will provide a knowledge repository for sharing information about rare genetic diseases and this gives hope for the development of new types of treatment in the future."