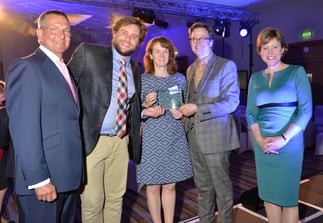 Congenica has been announced the winner of the new SME Innovation category in the 2016 NHS Regional Innovation Competition, organised by the NHS Innovation Hub Health Enterprise East (HEE) to propose solutions to challenges within the NHS.
Congenica has developed Sapientia™, a genome analytics software platform that can support diagnosis of rare genetic diseases with greater accuracy and within a fraction of the time and cost taken by current methods.
Andrea Haworth, Head of Clinical Services at Congenica, was a guest speaker at the awards ceremony on Thursday 9th June and she comments: "The NHS Innovation Competition was designed to stimulate entrepreneurial thinking within the NHS and enable those who understand the issues to propose pragmatic solutions. It is a great achievement for Congenica to win this award and demonstrates that we have the right solution for this important healthcare challenge.
"Genomics is starting to re-classify disease and provides new ways of delivering personalised treatments for patients. It is an exciting time for medicine and it is very important that NHS staff are engaged in this revolution.
"We are delighted to accept this award not only on behalf of our team at Congenica but also for all the clinicians and scientists within the NHS that have worked with us to help get the technology adopted for the benefit of patients.
"Together we are transforming the diagnosis and understanding of genetic disease."
Dr Anne Blackwood, Chief Executive at HEE agrees. She said: "In this, our tenth NHS Innovation Competition, we continue to recognise the very best ideas in healthcare innovation from across the region.
"More than ever, the NHS needs bright ideas to help address healthcare challenges and improve patient services.
"There was a strong response, not just from NHS staff within our Member Trusts, but from industry this year too.
"All those shortlisted were chosen not only for their creative thinking but also for their fantastic work and commitment to patient care, and HEE will continue to work with each of them to support and promote the work that they do, now and into the future."
More information about the awards and the other winners can be found at www.hee.org.uk
Image shows from left to right: Jerry Turner, HEE Chairman; Alan Martin, Head of Product Innovation at Congenica; Andrea Haworth, Head of Clinical Services at Congenica; Tom Weaver, Congenica CEO; Susie Fowler-Watts, BBC Look East presenter and host for the awards.