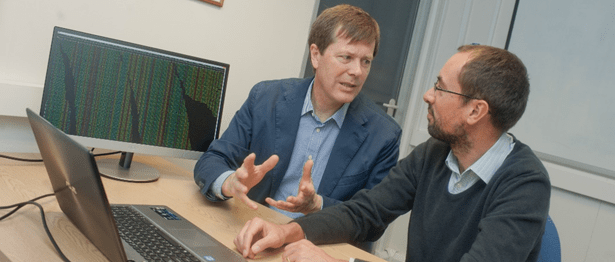 CAMBRIDGE, UK and SAN DIEGO, USA – April 20, 2017 – Congenica and Edico Genome today announced the companies have partnered to offer their complementary platform technologies as an all-in-one, genome data analysis solution that accelerates clinical labs' and hospitals' progression from DNA sequencing to diagnosis for inherited diseases which otherwise takes months or years. This dramatic improvement in diagnosis can be achieved whilst also reducing costs.
Available immediately, the new offering combines Congenica's SapientiaTM software platform, which allows hospitals and labs to analyse and interpret the genome and create comprehensive diagnostic reports to support clinical decision making, with Edico Genome's DRAGENTM, a field-programmable gate array (FPGA)-centric platform that implements genome pipeline algorithms to analyse a whole genome in only 20 minutes onsite, or under 10 minutes in a single cloud instance. Both platforms accelerate analysis times while maintaining high accuracy, significantly lowering costs and providing accessibility via the cloud.
Thomas Weaver, Ph.D., Chief Executive Officer of Congenica, said: "Sapientia is already used extensively throughout the NHS in the UK as well as by clinical scientists providing reports for the 100,000 Genomes Project. Without a diagnosis, it is difficult to select the most appropriate treatment plan for a patient or make a prognosis of what the likely outcomes may be. Edico shares our vision of transforming healthcare by developing easy to use, highly automated genomics analysis solutions, and by combining our complementary technologies we aim to accelerate the clinician's ability to use genomics to diagnose a patients' disease, and make this available on a global basis."
Edico's DRAGEN Bio-IT processor has been assessed as part of University College London's (UCL) Rapid Paediatric Sequencing Project (RaPs), a pilot aimed at evaluating the use of rapid whole genome sequencing (WGS) for rare diseases in an intensive care clinical setting.
Phil Beales, Professor of Medical and Molecular Genetics at UCL, said: "For children with rare diseases and their parents, answers cannot come quickly enough. Faster answers mean less time finding a diagnosis and more time making decisions about treatment and care. After extensively testing and validating the platforms, we were impressed by the speed, accuracy and cost savings conferred. Initially, we will apply the technology to a number of clinical cases where rapid turnaround is especially critical, and ultimately envisage the solution will be widely used as we scale our efforts."
Added Pieter van Rooyen, Ph.D., Chief Executive Officer of Edico Genome: "As genomics marches towards the clinic, we recognize clinicians and researchers need easy to use, all-in-one solutions that enable genomic data to be analysed and shared quickly, easily, accurately and cost effectively. Congenica has first-hand perspective of the needs of the clinical genomics community from its extensive work with the NHS, including the Genomics England initiative, and through this new collaboration we're able to create an all-in-one, easy-to-use offering that significantly accelerates the ability of hospitals and clinical labs to move from the sequencing of a sample to a clinical diagnosis."