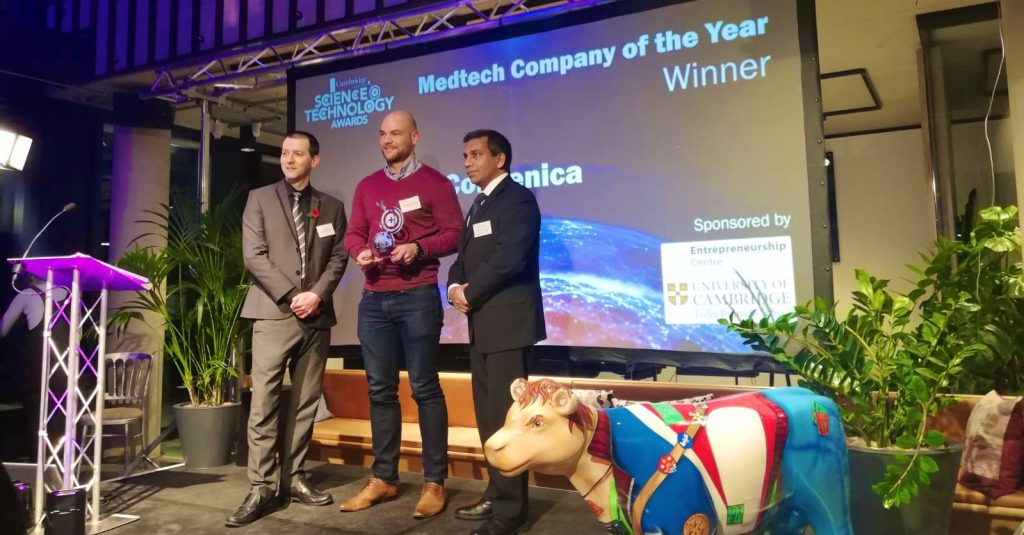 Congenica has been named MedTech Company of the Year 2019 at the Cambridge Independent Science and Technology Awards 2019 at a ceremony held on the Cambridge Science Park.
The judges acknowledged Congenica's pursuit of integrating clinical genomics into healthcare and acceleration of its commercial expansion during the past year, developing partnerships in the UK and beyond. The company also recently won a highly competitive tender for the multi-year contract with Genomics England to be the exclusive clinical interpretation partner for the world-leading NHS Genomic Medicine Service.
The NHS selection of Congenica recognised the unique aspects of its solution: its focus on patient outcomes and ability to deliver genomics solutions at true scale and quality. It also brings Congenica to the forefront of the genomic medicine industry, building on the success of the 100,000 Genomes Project in which it was a key contributor.
Further afield, in 2019 Congenica has partnered with leading institutions and customers in the US, China and Europe to better serve different patient populations.
Traditionally, diagnosis of a rare genetic disorder takes an average of five years and involves more than seven clinicians. This 'diagnostic odyssey' can be reduced to a matter of hours using the Congenica solution. As well as providing a substantially quicker approach, Congenica also demonstrates up to a 2-fold increase in the rate of successful diagnoses.
Noah Konig, Head of Marketing at Congenica, commented: "I am delighted to accept the MedTech Company of the Year award on behalf of the incredibly driven and passionate team at Congenica. We are proud to deliver clinically actionable results with greater accuracy and efficiency, often enabling effective treatment to begin earlier leading to better outcomes for patients and their families."