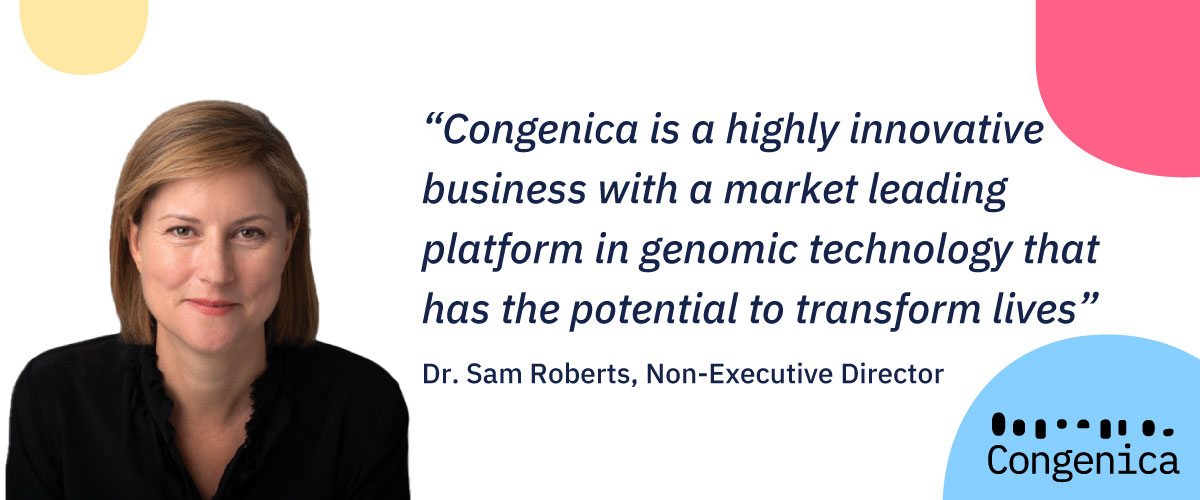 Cambridge, United Kingdom – 20 November 2020 - Congenica, the digital health company enabling rapid and accurate analysis of complex genomic data to transform people's lives, is pleased to announce the appointment of Dr. Sam Roberts as Non-Executive Director to the Board. Sam is the Managing Director of Health & Care at Legal & General. Her appointment follows Congenica's US$50m Series C funding round, which was co-led by Legal & General.

In her role at Legal & General Sam focuses on the investment strategy across the health and care sector within Legal & General's Capital and Retail Retirement businesses. She joins the Congenica Board with almost 20 years of experience working in healthcare, bringing a unique combination of clinical, operational, academic, private and public sector expertise. Sam was previously Chief Executive of the Accelerated Access Collaborative, the umbrella organisation for UK health innovation, which brings together the Government, NHS and industry leaders. She also previously held the position of Director of Innovation, Research and Life Sciences at NHS England where she developed a national policy to support development and uptake of innovation and increase participation in research.
Sam originally trained as a medical doctor, followed by several management consulting roles, including at McKinsey. She holds an MBA from the Australian Graduate School of Management and a DPhil in Evidence Based Healthcare from the University of Oxford.
On her appointment, Dr. Sam Roberts commented: "Congenica is a highly innovative business with a market leading platform in genomic technology that has the potential to transform lives. Legal & General's recent investment in the company reflects our growing interest in the health, wellness and longevity sectors. By joining the Congenica Board, I am excited to support the development and continued scaling up of the business."
Dr Andy Richards, Chairman of the Board of Congenica, said: "Sam's deep knowledge of healthcare, alongside extensive NHS and public sector expertise will be of huge value to us, with NHS England remaining a key partner for Congenica. Her unique medical and consulting skillset will support our expansion into new indications whilst we advance our international market development and strengthen our existing and future partnerships. I look forward to working with her on the Congenica Board."
About Congenica
Congenica is a digital health company enabling the rapid analysis and interpretation of genomic data, empowering researchers to provide life-changing answers that will in future improve wellbeing and disease management.
Congenica's world-leading software enables rapid genomic data analysis at scale, performing 20x faster than industry averages and providing a 30% higher analytical yield, reducing genomic interpretation costs by up to 95%.
Born out of pioneering research from the Wellcome Sanger Institute and the NHS, Congenica has a global footprint supporting leading international laboratories, academic medical centres and biopharmaceutical companies and is the exclusive Clinical Decision Support partner for the NHS Genomic Medicine Service.
For more information visit www.congenica.com.
Contact details for editorial enquiries:
Noah Konig, Head of Marketing at Congenica
Email: noah.konig@congenica.com
Consilium Strategic Communications
Chris Gardner, Angela Gray, David Daley
Email: Congenica@consilium-comms.com
Tel: +44 (0)20 3709 5700