8th November marks the beginning of World Quality Week, recognizing the importance of quality standards at every level of an organization to uphold trust to sustain and improve performance every day of the year.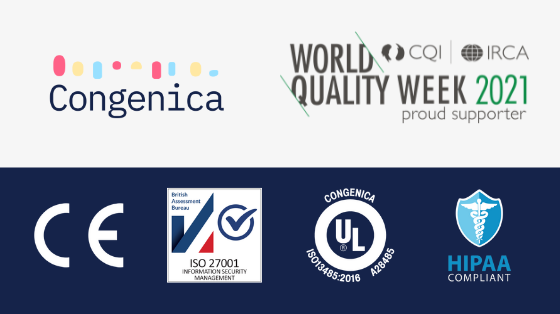 Quality is at the very heart of Congenica's business operations, and we continually work hard to implement the highest standards for the benefit of our employees, suppliers, partners, customers, their patients and families of patients – helping to deliver life-changing answers.

CE Mark
Earlier this year, Congenica became the only CE Marked IVD software for clinical diagnosis of rare and inherited genetic disorders that is available in both cloud and on-premise deployments. To celebrate this achievement, every member of staff around the world received a tin of Quality Street, in recognition of the important role played by every employee.
Regulatory compliance
Regulatory compliance is essential for patient safety and the effective application of genomic medicine for clinical use. Congenica complies with the latest HIPAA and GDPR requirements and using Congenica software, our in-house team of clinical scientists have been awarded the highest marks for clinical interpretation by the independent external quality assessment provider for genomics, GenQA.
Congenica is compliant with the NHS standard DCB0129 Clinical Risk Management: its Application in the Manufacture of Health IT Systems. Our Quality Management System is also compliant with US FDA 21 CFR part 820 requirement.
Congenica is certified to:
And complies with:
Retaining our commitment to quality doesn't just help customers now but supports the future proofing of their services. In 2022, EU Regulation 2017/746 on in vitro diagnostic medical devices (IVDR) introduces a major update to the regulatory framework, replacing IVDD. After the new IVDR transition period, all labs performing Laboratory Developed Tests (LDTs) in the European Union will have to use a CE Marked IVD device or justify why they are not doing so for regulators. By using Congenica you are well positioned for when the In Vitro Diagnostic Regulation (IVDR) (EU) 2017/746 comes into place in 2022 and ready for IVDR.

Find out more about CE mark and Congenica's commitment to quality.