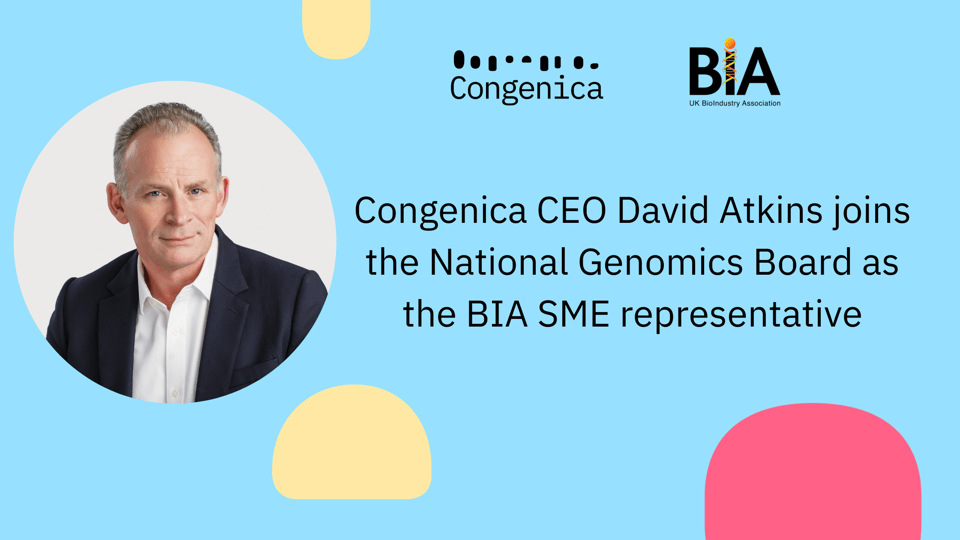 Dr David Atkins, Chief Executive Officer of Congenica, has joined the National Genomics Board as the BioIndustry Association (BIA)'s SME representative. The Board brings together senior decision makers from government, the NHS, academia and industry to advise the UK Government on its national genomics strategy, Genome UK. Dr Atkins' appointment to the Board means that the voice of genomic start-ups and SMEs will be heard at the highest levels of government.
Dr David Atkins, Chief Executive Officer, Congenica, said: "The National Genomics Board will play a crucial role in implementing the vision outlined in Genome UK. This strategy is based upon driving innovation, attracting investment, and delivering genomics-driven healthcare to patients to accelerate the diagnostic process and ultimately improve treatments. It is an honour to join such an esteemed group as the BIA's representative and I look forward to working together as we further advance the UK's position as a global genomics leader and incorporate clinical genomics into routine diagnostics."
Steve Bates OBE, Chief Executive of the BIA, said: "The UK is a world-leader in genomics as demonstrated by the great work in sequencing genetic variants of SARS-CoV-2. The role of SMEs in driving genomic innovation cannot be understated and I am delighted that David is joining the National Genomics Board. As the Chief Executive of a successful UK-grown genomic SME, a BIA Board Member, and an active member of the BIA's Genomics Advisory Committee, David is uniquely qualified to represent the BIA's genomics community to the Board. We look forward to working with David and the rest of the Board to build a thriving genomics industry to benefit NHS patients and as we rebuild our economy from COVID-19."
Notes to Editors
National Genomics Board
The National Genomics Board is co-chaired by Lord Bethell, Parliamentary Under Secretary of State (Minister for Innovation), and Life Sciences Champion Professor Sir Professor Sir John Bell. The Board brings together senior decision makers across the sector, including key civil servants, delivery partners, patient advocates and representatives from research organisations and industry. Its goal is to make sure that the UK remains the world's leading centre for genomic medicine and research, and to use this position to deliver quantifiable benefits for NHS patients and the life sciences sector. The Board reports into the Life Sciences Council.
David Atkins, PhD, Chief Executive Officer
David is CEO of Cambridge-based global genomic medicine and digital health company, Congenica. He has over 25 years' experience as a global leader in a broad range of diagnostics and healthcare businesses. He has held senior positions in R&D, business development, operations and sales and marketing. He has extensive commercial experience in North America, EMEA, Asia and Latin America. Prior to joining Congenica, David was CEO of Synevo, a clinical diagnostic laboratory service business operating across Germany and Eastern Europe. David also has over 20 years' experience with Johnson & Johnson's Medical Device and Diagnostic businesses in R&D and business development and in senior international commercial roles.
Congenica
Congenica is a digital health company enabling the rapid analysis and interpretation of genomic data, empowering health professionals to provide life-changing answers to patients, helping to improve wellbeing and disease management.

Congenica's world-leading software enables rapid genomic data analysis at scale, performing interpretation of complex genomic data 20x faster than industry averages and providing a 30% higher diagnostic yield to improve outcomes for patients and their families.

Born out of pioneering research from the Wellcome Sanger Institute and the NHS, Congenica has a global footprint supporting leading international laboratories, academic medical centres and biopharmaceutical companies and is the exclusive Clinical Decision Support partner for the NHS Genomic Medicine Service.

For more information visit www.congenica.com