Effective solutions are essential to mitigate and overcome the global challenges presented by COVID-19
Sharing clinical data can dramatically improve outcomes for patients. The COVID-19 pandemic has highlighted that collaboration between international healthcare systems is crucial to manage global challenges and develop responses. Despite the great potential of genomic data sharing, few healthcare organizations are actually participating in such initiatives.
A new report from the World Economic Forum proposes a new way to share genomic data safely and anonymously across borders. Experts from Congenica provided commentary in an associated article and Congenica's CEO, Dr. David Atkins commented: "Effective data sharing solutions are essential to mitigate and overcome the global challenges presented by disease in general and in particular, COVID-19. As a World Economic Forum member, Congenica is supporting and contributing to the agenda of the WEF COVID Action Platform to support prevention and detection with more accessible genetic data and analysis at scale."
Data is fueling the fire of the fourth industrial revolution

A federated data system can overcome this challenge by enabling sensitive data sharing across borders and ensuring data security, patient privacy and data interoperability. To drive innovation and mitigate potential risks for rare disease, genomic institutions in Australia, Canada, the UK and the US and the World Economic Forum have developed a genomic data consortium governance model [1,2].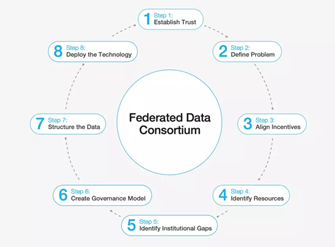 Figure 1: Eight Steps to follow to build a federated data consortium [1]
The new WEF Insight Report identifies a way to share rare disease data safely and anonymously across borders. Australia and Canada will pilot the proof of concept, potentially helping the 8 % of their populations living with a rare disease. Project findings outline how to accelerate time to diagnosis and treatment for patients with rare diseases, potentially extending or improving the quality of life. Accessing large volumes of pre-collected health data for further analysis beyond a single country's border will unlock new innovations and discoveries.
Mastering the technical side of sharing sensitive data
"Congenica has created the highest quality aggregation of proprietary in-house, public, and partnership-generated data sources in one federated capability", says Rob Denison, Congenica CIO.
As he explains further, "The readily accessible and easy to use data that Congenica provides is built on a foundation of its core in-house data. A further 35 external public, commercial and non-commercially licenced proprietary data sources, are layered on top of this with as many as possible accessed through APIs in real time. Added to this are the closed databases from Congenica's exclusive partnerships. All data is aligned and presented alongside the wealth of data that our partners and clients generate themselves in one unified data capability. This unique offering is accessible through both our online SaaS platform used by all our clients, as well as our bespoke genomic data research and analysis services. Our approach aligns with the WEF proposal of taking a federated approach rather than trying to centralise data in a single database."
Co-ordinating these different sources is a challenging task but provides tremendous value to Congenica's partners as a prerequisite to effectively sharing data. Congenica is also working with the major data providers and standards bodies in the UK and globally to further utilize federated data to support innovation and validation of its AI and ML algorithms in both production and development.
Congenica provides its customers one of the broadest, highest quality data sets in terms of quantity, accuracy and richness of data, in a standards-compliant way. Integrating genomic data in a single federated platform provides superior unity, usability, accessibility and value to all users.
Increasing the value of genomic data with global genomic data consortia
Read the full World Economic Forum article here
References
[1] Sharing Sensitive Health Data in a Federated Data Consortium Model – An Eight-Step Guide. World Economic Forum Insight Report, July 2020 http://www3.weforum.org/docs/WEF_Sharing_Sensitive_Health_Data_2020.pdf
[2] Atkins et al., Increasing the value of genomic data with global genomic data consortia https://www.weforum.org/discom?bobulate=dXdlucjQ8pRgkIGfH%2FHbz8AIqi91apwk8EMhMkJFP%2FLqteM4WYZOxJal7xFGGHGoQhwhr9cu0hu1q2Dz9Y68rw%3D%3D