Exome analysis of prenatal and postnatal cases referred with skeletal dysplasia: an overview of genomic and phenotypic findings
Andrea Haworth, Lead Clinical Scientist, Rare Disease, at Congenica, presented a poster at the recent Rady's Frontiers in Pediatric Genomic Medicine event that looked at cases of skeletal dysplasia.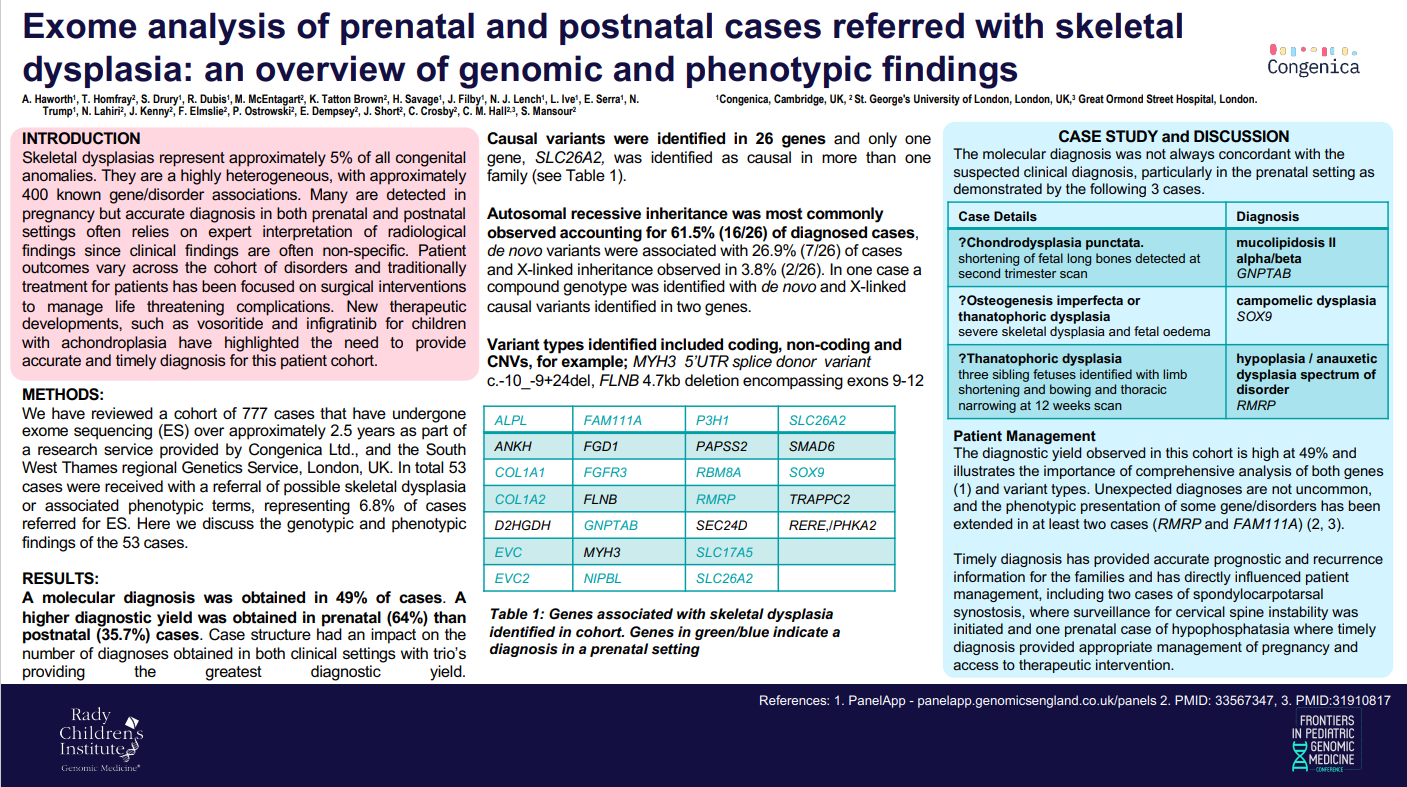 Skeletal dysplasias are disorders affecting the skeleton and whilst rare, represent approximately 5% of all congenital anomalies. They are highly heterogeneous, with approximately 400 known gene/disorder associations. Many skeletal dysplasias are detected in pregnancy but accurate diagnosis in both prenatal and postnatal settings often relies on expert interpretation of radiological findings since clinical findings are often non-specific.
Patient outcomes vary across the cohort of disorders and traditionally treatment for patients has been focused on surgical interventions to manage life threatening complications. New therapeutic developments, such as vosoritide and infigratinib for children with achondroplasia, have highlighted the need to provide accurate and timely diagnosis for this patient cohort.
This poster describes the genomic and phenotypic findings of 53 cases referred to a clinical genetics service over an approximately 2.5-year period. All cases underwent exome sequencing (ES) as part of a service provided by Congenica and the South West Thames Regional Genetics Service, London. The 53 cases represent 6.8% (53/777) of all cases referred for ES. In the poster 64% of cases that received a molecular diagnosis were identified in a prenatal setting.
For researchers analyzing fetal anomalies, Congenica Prenatal is a pre-configured module available within the Congenica Clinical Decision Support platform for research use, with expertly curated and annotated gene panels, enabling you to identify the genetic causes of ultrasound-detected fetal anomalies faster than ever before.
Find out more about our Prenatal Congenica solution