The American Journal of Human Genetics has published its Genomic Medicine Year in Review for 2020, an annual feature highlighting ten key advances in applying genomic information to clinical care.
Included in the ten most significant advances this year was a study by Turro, E., et al. (2020) published in Nature that reported the sequencing and analysis of whole genomes from more than 13,000 patients as part of the UK 100,000 Genomes Project. As we previously highlighted here Congenica's clinical decision support platform was used in the study for the analysis, visualisation and interpretation of data. Additionally, seven Congenica team members were named as contributors to the study.
---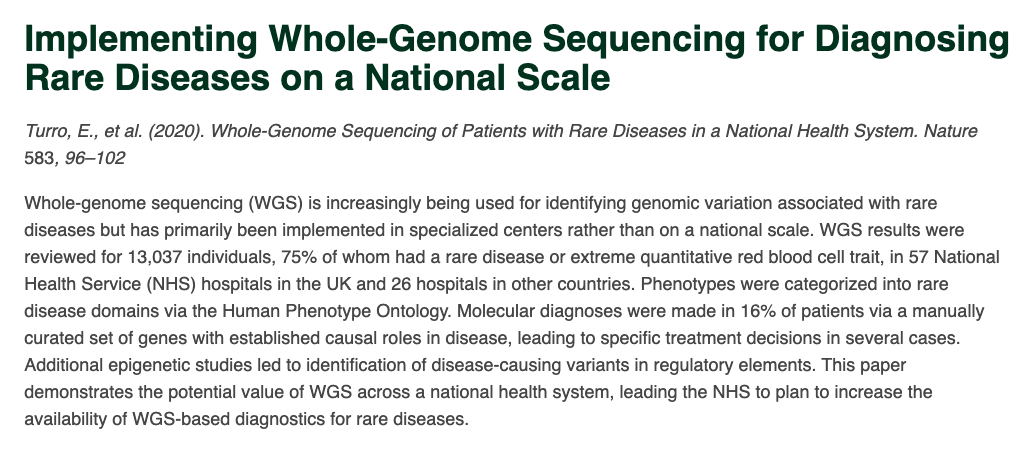 Turro, E., et al. (2020) included in the American Journal of Human Genetics' Genomic Medicine Year in Review 2020.
---
The study demonstrated how using next generation whole genome sequencing (WGS) can help clinical geneticists provide a molecular diagnosis for more patients and reduce the turnaround time from years to a matter of weeks. Using patient data from 57 NHS hospitals and 26 centres in other countries, the study highlighted more than 172 million genetic differences in the genomes of the patients and used the Congenica platform to locate the few hundred disease-causing variants within these.
Matthew Hurles, PhD, Scientific Director of the Board of Congenica: "The recognition of this landmark study highlights the clinical application of WGS for the diagnosis of rare diseases on a national scale. Congenica is proud to have been involved in the study, utilising our market leading platform to analyse and interpret a significant volume of data to help to achieve a faster and more accurate diagnosis for patients."