For most of us, the journey to a genomic diagnosis, from initial consultation to delivery of the test results, is a black box. Samples enter through one side and out the other side an answer (hopefully) emerges.

Today, Congenica opens the Black Box and through a series of short video conversations, follows the journey of Karen Lettington and her son George as they are enrolled in the 100,000 Genomes Project, searching for answers to George's significant healthcare challenges.

The films show the patient journey from the very first signs of a healthcare challenge to subsequent medical appointments, blood samples being taken to Illumina's sequencing lab, then on to Congenica for analysis and interpretation before going back to the medical team for discussion with the patient.
George's Diagnostic Odyssey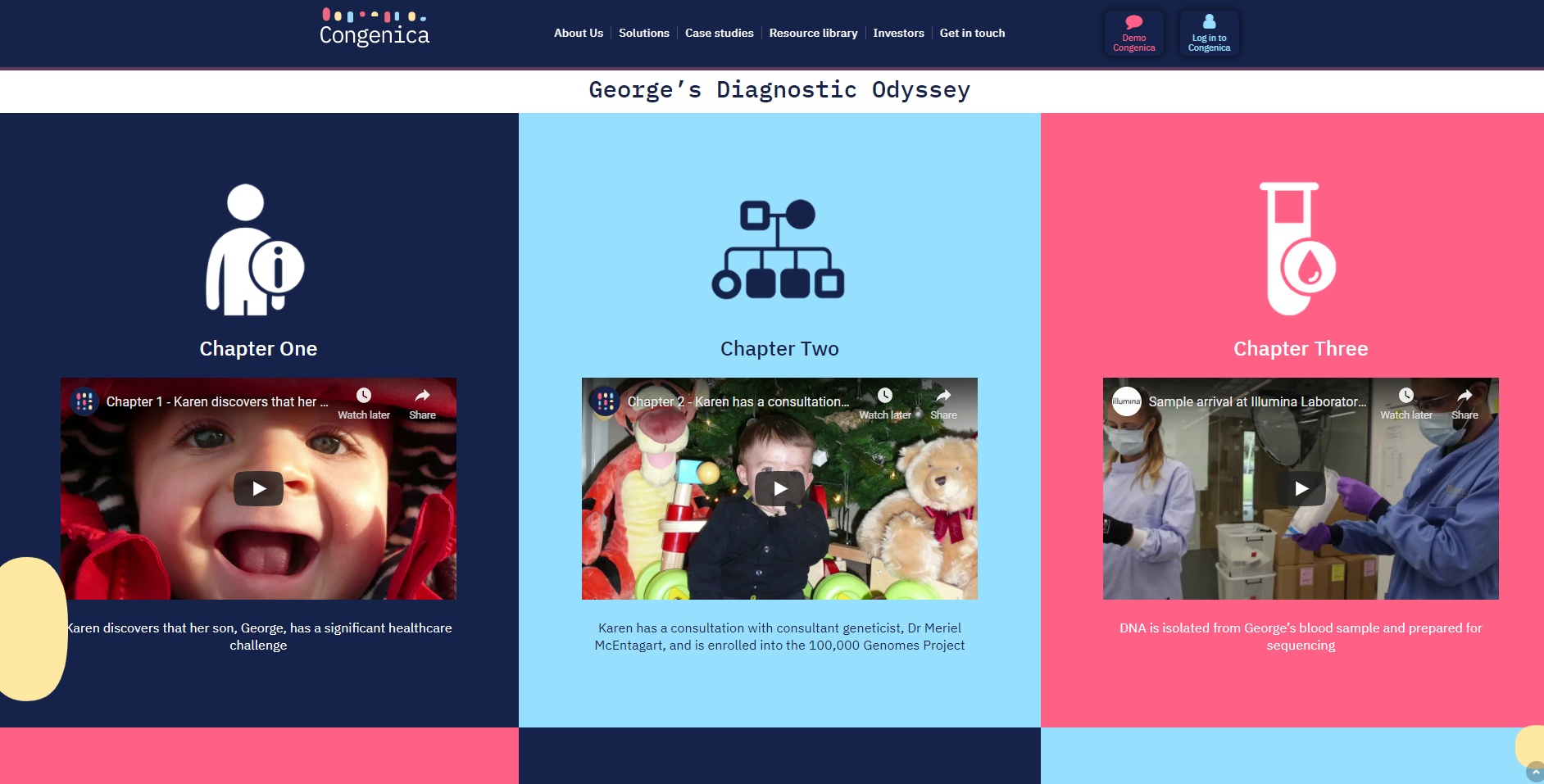 The short films have been split into chapters, each showing a part of the journey.
Chapter 1: Karen talks about discovering that her son, George, has a significant healthcare challenge
Chapter 2: Karen has a consultation with consultant geneticist, Dr Meriel McEntagart from St George's Hospital NHS Trust in London, and is enrolled into the 100,000 Genomes Project
Chapter 3: DNA is isolated from Karen's family's blood samples and prepared for sequencing
Chapter 4: Karen's family's DNA is sequenced in preparation for analysis
Chapter 5: Karen's family's genomes are analyzed
Chapter 6: Karen's family's genomes are interpreted for a genomic cause
Chapter 7: Karen and Meriel discuss the genomic findings for George
Chapter 8: Karen uses her family's diagnosis to reach out to other families around the world to investigate George's disorder further.


Dr Charles Steward, Patient Advocacy and Engagement Lead for Congenica, said: "As part of the Patient Advocacy and Engagement initiative at Congenica, we are helping to explain the journey that a person might expect to go through to receive a genetic diagnosis. Here, with the help of our friends and collaborators from Illumina and Genomics England, we join forces to explain the many steps involved in that journey and hope that these films de-mystify what may be a confusing and worrying time".


Alastair Kent OBE, Chair of Congenica's Patient Advocacy and Engagement Advisory Board said: "It is well known that patients and families do better when they are actively involved in their health care. The days when "Doctor knows best" have passed, to be replaced by partnership on a shared journey based on mutual understanding. This series of films will help build trust between doctors and their patients through the exploration of genomic technologies in an accessible format - opening up the black box for the benefit of all concerned".
Visit our Opening the Black Box page and follow George's Diagnostic Odyssey
Patient Advocacy and Engagement at Congenica
A desire to improve the lives of people living with rare and inherited diseases is central to everything we do at Congenica, and our patient advocacy and engagement initiative aims to ensure the patient voice is heard loud and clear inside the company.

We also want to help patients navigate often confusing and disparate information by providing educational materials that are trustworthy and helpful. Our aim is to ensure patients, clinicians and researchers understand the patient journey from referral, through diagnosis and beyond.
We strive to help ensure all parties understand the strengths and current limitations of genomic medicine as well as ensuring we work together to realize the full benefits that the genomic revolution promises.
To keep up to date with our news, including the latest blogs, sign up to our Patient Advocacy and Engagement newsletter.