Embedding clinical best practices into an automatable clinical decision support workflow
While the patient benefits of employing next generation sequencing to help diagnose disease are clear, according to a recent survey [1] there are two primary challenges that can prevent adoption. These are reimbursement for both sequencing and data interpretation, and a lack of in-house bioinformatics expertise to reliably automate the critical, yet often time-consuming steps.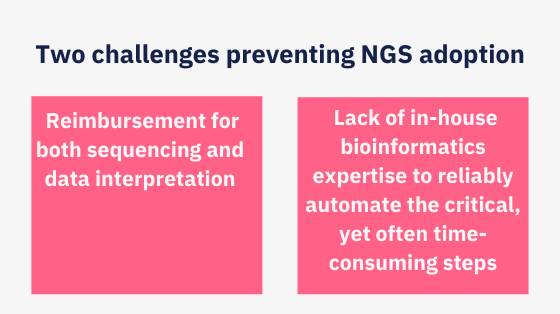 The time and cost of genomic analysis creates significant bottlenecks in clinical labs and is predicted to account for more than half the cost of the clinical use of NGS by 2026 – with reimbursement for data interpretation often proving challenging, this is often a key concern [2]. Choosing a professional solution for genomic analysis and interpretation can significantly reduce the data analysis time, turning a 20-hour manual task into one that takes just 20 minutes, while increasing diagnostic yield. [3]
Intelligent automation augments clinical geneticists efforts and encodes best practices
In order to achieve such impressive results, commercial clinical decision support (CDS) platforms need to embed clinical best practice into automated workflows that enable rapid access to relevant data sets, streamline reporting processes and facilitate data sharing, all while maintaining privacy and security.

Genetic data reporting and curation of clinically relevant gene-disease relationships are well documented by ClinGen [4] and ACGS [5]. These guidelines are quite complex and are updated regularly, making it difficult for clinical laboratories to stay current. CDS platforms such as Congenica provide solutions to this challenge by encoding best practices into automated workflows and allowing users to follow simple prompts to follow best practices.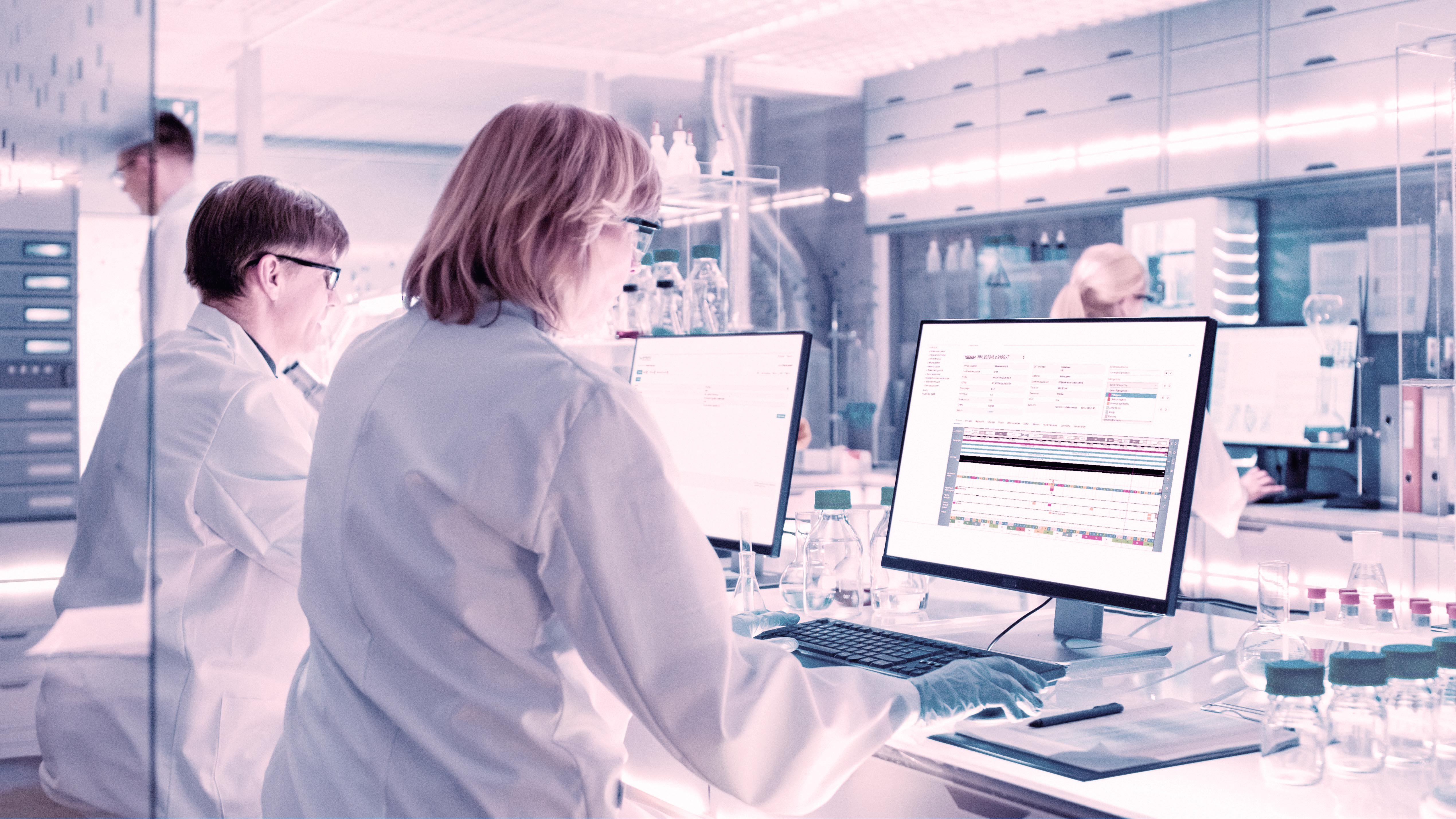 The best CDS platforms enable clinical labs to utilize their own proprietary, historic case data. The importance of this is supported by multiple findings:
Approximately 60% of respondents to our survey spanning academic, clinical, and commercial clinical NGS experts - conducted between December 2020 and February 2021 - indicated that an

internal knowledge base exists and is used for variant analysis. CDS platforms that leverage this knowledge in automated analyses can make all the difference.

Most survey respondents said they almost always use "clinical knowledge from past cases to inform new diagnoses."


What to look for in a clinical decision support (CDS) provider
Flexible incorporation of proprietary lab knowledge resources

When selecting a professional analytics solution, consider one that enables data sharing and leverages internal databases to integrate historical knowledge and expertise in analytics via curated variant lists that are managed in-product. [6] A flexible platform enables on-demand integration of existing knowledge bases and historical reference data, allowing you to automate and customize your ever-growing expertise in analytics. This way, your lab's expert knowledge becomes fully integrated into your analysis processes.

Automated streamlined analysis workflows
Automatic variant classification, including identification and ranking of Pathogenic/Likely Pathogenic variants, is the most requested capability worldwide and a clear workflow advantage as it allows genomic analysts to focus their valuable time on those few variants that matter the most. The result is increased efficiency and increased diagnostic yield. These capabilities led to Congenica being selected as the sole clinical decision support platform provider by the UK's National Health Service in a competitive tender. [7]

Proven diagnostic yield increase
More than 70% of survey respondents agree that maximizing diagnostic yield is the most important goal when analyzing complex genetic disorders. Congenica includes two variant ranking tools, Congenica AI and Exomiser, which encodes best practices in clinical analysis and increases diagnostic yield by 50%. [7]
Ideally, your solution will provide you with a complete overview of currently available, world-class datasets such as ClinVar and OMIM, but also local expert knowledge to complete your overview. Supporting integration with internal knowledge bases and customer-owned historical data provides previous evidence that can often be the reason for a diagnosis in a new case.
Deployment flexibility
When selecting an analytics solution, there are many ways that platforms can be deployed. For example, Congenica offers three key deployment options designed to fit the unique needs of your organisation:
On Premise Cluster - this high availability option is VMWare-based and offers WGS scale and local data storage
SaaS Single Tenant - a dedicated instance that includes the complete Congenica platform within the customer's own AWS
SaaS Multi-Tenant – a high scalability, high availability option that is compatible with AWS and Alibaba Cloud
Congenica is ideally suited to be your workflow innovation partner
With team members that worked on the human genome project and leveraging learnings from the world's first nationwide clinical whole genome analysis service [7], our in-house innovation and clinical interpretation teams have experience analysing tens of thousands of cases reports. We partner with our customers to advance the field of precision medicine through enabling confident genomic testing for: hereditary disorders, precision oncology, screening and population health.
Learn more about how genomic analysis can be performed at scale in our case study "From data to diagnosis – delivering results on a national scale with Genomics England".
References
[1]
Analysis of Effort in Molecular Test Interpretation – Quantitative Survey Data Readout, March 16th, 2021. An AMP report, created with support from AMGEN Oncology

https://www.amp.org/AMP/assets/File/advocacy/AMP_MDx_Interpretation_Quant_Survey_Report.pdf?pass=26

[2]
Congencia case study: Analyze, interpret and report NGS data faster than ever
https://genomics.congenica.com/analyze-interpret-and-report-ngs-data-faster-than-ever-before

[3]
Schwarze, K., Buchanan, J., Fermont, J.M. et al. The complete costs of genome sequencing: a microcosting study in cancer and rare diseases from a single center in the United Kingdom. Genet Med 22, 85–94 (2020). 
https://doi.org/10.1038/s41436-019-0618-7
[4]
Guidelines for applying for variant or gene curation expert panel status.
ClinGen Clinical Genome Resource, February 2021
https://clinicalgenome.org/docs/guidelines-for-applying-for-variant-or-gene-curation-expert-panel-status

[5]
Best practice guidelines. ACGS Association for Clinical Genomic Science
https://www.acgs.uk.com/quality/best-practice-guidelines
[6]
Lench, N. Digitally Unleashing Your Molecular Superpowers – Digital tools can augment pathologists' molecular medicine powers so they can diagnose and treat more patients. The Pathologist, October 2020
https://thepathologist.com/diagnostics/digitally-unleashing-your-molecular-superpowers

[7]
Congenica Case Study: From data to diagnosis – delivering results on a national scale with Genomics England
https://genomics.congenica.com/genomics_england_case_study?hsCtaTracking=210544da-18d5-47be-9f07-f74da7134a41%7Cb4c09106-6321-4d2b-a594-17c955f98090