Congenica team members share their career journeys and experiences for
International Women and Girls in Science Day, 11th February 2023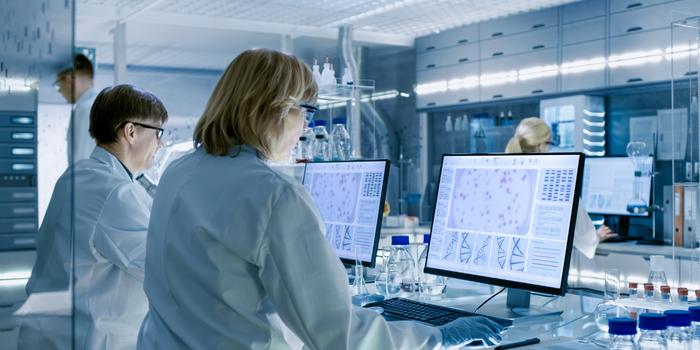 February 11th is the International Day of Women and Girls in Science, a day to celebrate the achievements of women in science and encourage more young women to pursue a career in this field. We talk to three of our colleagues at Congenica and asked them to describe their experiences of working in STEM (science, technology, engineering and maths).
Since 2016, the number of women working in STEM fields in the UK has increased by 216,552, taking the total number over the 1 million mark for the first time.
Women now make up 24% of the STEM workforce in the UK[i]
Andrea, our Lead Clinical Scientist for Rare Diseases, has spent many years working in the STEM environment and specifically in Clinical Sciences. In her experience, Clinical Science, particularly within biological science disciplines, has traditionally been seen as the more "female" side of science. Although perhaps true, and while stereotypes may still exist, Andrea highlights the critical importance of Clinical Science in the healthcare industry today and how working environments for women in science have vastly improved over the years.
She says: "One of the big issues for women in science the past was having to choose between advancing in their chosen career and motherhood. Career progression for women was not only impacted by maternity leave but also ongoing childcare and it was not uncommon for women to be overlooked for promotion once they had become mothers. I have seen many brilliant women leave research and other science areas because they couldn't fit their careers around childcare or vice versa."
Thankfully though, says Andrea, things are improving.
"There is much better overall support and flexibility from employers. Moreover, the recent Covid-driven lockdown has resulted in organisations being increasingly receptive to flexible working practices, such as home or hybrid working or non-standard office hours, which benefits employees and organisations alike and enables recruitment of female (and male) talent from across the world."
Dale, who is new to Congenica and joined us as a Bioinformatics Customer Support Specialist, started her career teaching Mathematics, Science and Biology. Dale left teaching to become a software support technician and then a product developer, before finding her true calling in bioinformatics eight years ago.
Dale said: "IT has traditionally been low on female leaders, but I have had many amazing male role models over the years as well as a supportive husband at home who have all encouraged me to achieve my goals. Like other women in science, particularly other career-driven mothers, I have faced challenges, but with the support I was given I was always determined to not to let anything stop me. My advice to anyone looking at a career, especially on the Technology and Engineering side, is to embrace the STEM journey wherever it may take you. Times are changing and the doors are opening wider for woman in these fields. So, embrace the challenge and do it."
Chrysanthi, our Product Owner for Oncology had similar experiences.
"As a woman in science I have faced challenges at work including gender bias and a lack of representation in leadership positions, but also at home where women are often expected to balance work and family responsibilities. However, these challenges have helped me to develop leadership skills, resilience, and confidence. During my career, I met many inspirational women and men within the STEM sector who have contributed to a more diverse and equitable scientific community. I have been fortunate to have been mentored by colleagues in leadership positions, who have helped me to grow professionally and personally, and access networks and communities that provided guidance."
"Women have made significant contributions to the field of science and are increasingly breaking barriers and achieving leadership positions. With more initiatives that promote diversity and inclusion in the workplace we –men and women together -can all thrive and benefit from each other's skills, expertise, and experience."
Rebecca Watts, Head of People and Culture at Congenica, comments: "At Congenica, we celebrate diversity and are so proud of our team who work tirelessly to help make precision medicine a reality for everyone. While we wish that we didn't need a day to celebrate women's contribution to science, we absolutely support the drive to get more young people to consider a STEM career. We hope that these stories from just some of our amazing women can inspire those who may be considering working in these fascinating fields."
If you are interested in joining the team at Congenica, please visit our Careers Page