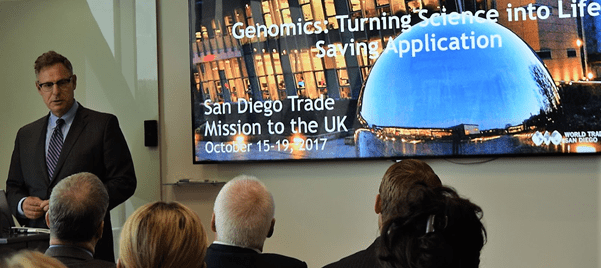 18th October 2017: The Wellcome Trust Sanger Institute welcomed a US Congressman and trade delegation from San Diego last week, for a discourse on innovation and enterprise in the life sciences.
The delegation from the San Diego Regional Economic Development Corporation (SDREDC) was comprised of representatives from across education, industry and government for the southern Californian city. The delegation was lead by Congressman Scott Peters (D-CA52) and included members of UC San Diego, Edico Genome and Takeda. They were greeted by delegates from the Sanger Institute alongside Genomics England and Congenica.
The two cities hold key positions in both the current life science industries and in the history of the discipline as a whole. Both were the sites of key events on the science's timeline and home to the biggest names in the industry. They have created environments that attract huge amounts of venture capital and are magnets for talent. Supported by high quality universities and institutes, they are perfect locations to grow spin -outs and start-ups.
"I think we are all impressed by the parallels between Cambridge and San Diego. Two vibrant, dynamic cities both excited about science and innovation, particularly in the genetics and STEM fields. Life sciences have $5.6 billion of economic impact in our city. That includes heavyweights like Illumina, but also relative newcomers such as Edico who have proved their processor with an impressive growth trajectory through their work with Congenica." Said. rep. Peters.
World Records & Creative Environments
The gathered representatives of government and industry heard from Prof. Joanna Hackett, Chief Commercial Officer of Genomics England, who said: "There are three groups here today who have saved more than 20 lives; Congenica, Edico and Genomics England. Whole genome sequencing will become routine clinical care, our project has proved its clinical utility.
"Genomics England is very good at getting the patients – our population is very rich – but we need to rely on other companies to extract and interpret the data, and that is where the great work of our partners such as Congenica comes in."
Rebecca Hemenway, Senior Director of New Product and Business Development at Edico Genome told the audience: "The Human Genome Project took 13 years and $2billion to give a result. Now, it's very different. In fact, we hold the world record for performing the fastest genetic diagnosis at 26 hours from beginning to end. It is very important to have a streamlined and efficient workflow and that was why we established our partnership with Congenica. We expedite and they interpret."
A Tale of Two Innovative Cities
Life sciences are highly prized industries for modern cities. The jobs created in these sectors tend to be high wage and knowledge intensive but still provide a highly deployable skillset. They are strong attractors of talent and drivers of education as well as having some of the highest numbers of spin-out companies to keep the market growing and diverse.
This factor is easy to see around the Cambridge Cluster, the name often given to the areas around Cambridgeshire, colloquially known as 'Silicon Fen'. Boasting almost 25,000 companies and an annual turnover of £36.5 billion, of which 10% comes from life sciences alone. These numbers are underpinned by good local governance, the support of the University of Cambridge (the 4th best in the entire world) and an energetic new business landscape.
San Diego boasts a huge number of ultra-modern solutions, such as one of the world's largest Internet of Things (IoT) networks, which includes smart buildings, streetlights and utility metres. The city has embraced the electric car and holds 727 charging stations, a number of which are directly powered by solar energy. This innovation is underpinned by a reinvigorated education system capped by the city's university, UC San Diego, which is part of the famous University of California group.
Congenica & Global Expansion
Closing the talks was Congenica's Chairman, Dr. Andy Richards, who said: "Doing something like this, revolutionising healthcare, requires real ambition. Genomics England was a brave move on the part of the UK but it has unequivocally shown that genomics can make a real difference in healthcare."
Having already made big impacts in the UK and Europe, Congenica has been expanding into new territories over recent years and have seen their first strategic appointments on both the east and west coasts of the US, with most of them being based out of San Diego. The Cambridge based company has also seen its initial appointments in China too, where they also have partner organisations in the form of the Beijing Genomics Institute.
"As much as our sector was born of the competition between Craig Venter and the private sector against institutes like the one we stand in now. It has been collaboration that has brought us to where we are today and which will take us to greater heights in the future." Dr. Richards continued.