It's time to shine a light on genetic diseases.
Conditions that have eluded us.
Evaded diagnosis.
Caused millions of people unnecessary suffering.
Not anymore.
We have developed a solution for Healthcare Professionals.
A technology that is changing lives.
A platform that can analyse the entire human genome.
A tool that can not only find the problem but go further.
We collect a wealth of health information; trillions of data points.
Then interpret and understand every detail.
It means genomic analysis with actionable outcomes.
It means a diagnosis that could have taken years, can now happen in hours.
We enable disease prediction, empower people to maintain
wellness and lead fuller lives.
We are Congenica.

Our brand identity
Our brand identity was designed carefully and thoughtfully to represent the unique work we perform. It has been created to reflect our commitment to empowering healthcare professionals to make important clinical decisions that can change lives.
At Congenica, we enable people to see patterns in genomic code that others don't see. We enable identification of unique genetic variants – revealing powerful diagnostic data and turning it into actionable insights to allow clinical decisions that were previously impossible.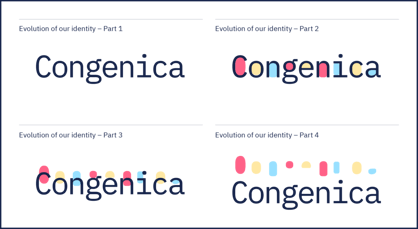 The evolution of our brand identity
Our logo style replicates data interpretation in action. The logo takes the hidden spaces within the letters of 'Congenica', bringing them out into the open in bright colours.
In effect the logo design re-interprets letters by finding hidden shapes within – creating interesting, organic shapes that come uniquely from the word 'Congenica'. In short, it is the DNA of our own brand.

What we believe in
At the heart of Congenica we have three simple values, which we all share and which set us apart. These values inspire us to continuously strive to make a difference for patients.
A desire to learn, which helps us to find and provide answers that will empower both healthcare professionals and patients.
The determination to excel by delivering information and analysis that healthcare professionals can depend upon and make confident diagnoses.
Our drive to solve even the most complex cases so that patients can receive the best outcomes possible.

About Congenica
We are a digital health technology company with the world's leading clinical decision support platform for accelerated genomic data interpretation. Our software enables genomic medicine by integrating genetic data into healthcare, empowering clinicians to provide life-changing answers that transform the lives of individuals, patients and their families.
Genetic diseases are difficult to diagnose, and patients often spend years waiting for a diagnosis. We convert genomic data into actionable information, speeding up the process with more efficient and accurate analysis. This supports healthcare professionals to provide patients with robust diagnoses and precise, personalised care.
Congenica was born out of pioneering research from the Wellcome Sanger Institute and the NHS. We are headquartered in Cambridge, UK, with a global footprint across the US and China. Our platform is validated by the pivotal Genomics England 100,000 Genomes Project and is are the exclusive clinical interpretation partner to the NHS Genomic Medicine Service.

Is your confidence in each diagnosis as high as it could
be?
Our industry-leading solution enables you to make accurate clinical decisions and provide definitive diagnoses faster and with more confidence.
Discover how to increase your diagnostic confidence, yield and workflow efficiency with the world's leading clinical decision support platform, Congenica.