Genomics is revolutionizing healthcare by facilitating rapid diagnosis and by guiding treatments and interventions. Genomics also promises to enable precision medicine at scale and to provide individuals with insight into management of personal risk.
In a healthcare setting implementation of clinical genomics into mainstream medicine poses significant challenges, including scalability, auditability and quality but also importantly challenges in providing informed and standardized clinical decisions, quickly.
In this post we will use examples to demonstrate how technology is enabling clinical decision support to address these challenges, how it is helping clinicians and scientists across the globe realize the potential of genomics, and why clinical decision support platforms are an essential component in paving the way for the provision of personalized medicine for individuals and healthcare systems.


What is a clinical decision support platform?
Whilst there are a variety of definitions available, broadly speaking clinical decision support software can be defined as a health information technology system designed to enhance. decision-making by providing physicians and other health professionals with contextually relevant information and data to assist with clinical decision-making.
A high-quality clinical decision support platform provides a number of important benefits, including:
Improved diagnostics
Standardized workflows
Greater efficiency
Increased cost-benefits
Improved quality and safety
Clinical decision support solutions are particularly attractive for their ability to address the growing data and information overload facing healthcare professionals, and to provide a platform for integrating evidence-based knowledge into healthcare delivery. In addition, they ensure compliance with rapidly evolving data privacy regulations.


Why is a high-quality bioinformatics platform now essential?
In the last few years the amount of genomic data generated worldwide has increased
exponentially, largely due to improved sequencing technologies and decreased cost. Where once sequencing a whole human genome cost millions and took years, it now costs hundreds of dollars and can be achieved in hours; resulting in an overwhelming deluge of data.
The reduction in the cost of sequencing has the potential to democratize genomics. Consequently, a wider range of healthcare organizations now have a desire to adopt and implement genomic and precision medicine in order to improve the care that they offer their patients.
On the other hand, whilst sequencing is now largely affordable, some centers do not have an extensive workforce of genetic analysts and bioinformaticians available to handle and make sense of the data. Therefore, adoption of genomics can seem daunting, particularly since it is still a rapidly advancing field.
Clinical decision support software can address this issue and provide centers of all sizes and experience with the tools to process, analyze and report genomic findings.


What benefits does a genomic clinical decision support platform provide?
Put simply a quality clinical decision support system will enable a complete integrated workflow from data analysis to report - allowing the user to interpret the wealth of information relevant to an individual.
This not only requires the ability to handle, process, annotate and filter the genomic sequencing data itself, but also the organization and capture of detailed clinical data.
Typically, genomic data can include complex phenotypic data, family history and clinical data for review in the context of multiple reference data sources, internal knowledge sets, literature resources and international guidelines.
To support healthcare professionals make informed clinical decisions more quickly, genomic data and information must be processed using best in class pipelines, algorithms and advanced analytics, it should be also be organized, filtered and presented in an intuitive way to support multiple clinical workflows.
How does clinical decision support software address the challenges posed by genomics?
Improvements in sequencing technologies has resulted in an explosion in genomics and given
birth to a plethora of tools, algorithms, database resources and more to deal with the exponential increase in data.
Many of these resources are freely available from research centers but can vary in quality. Some resources will also require significant expertise to utilize properly, which is further confounded by the fact that, even in expert hands, they can be interrogated, run and implemented in a myriad of different ways. This often creates significant issues for clinical centers wishing to process genomic data at scale for patients in a regulated environment.


Improving diagnostic confidence and yield
To ensure quality and information security, a clinical decision support solution should be developed and maintained in accordance with relevant standards and regulations such as ISO 27001, ISO 13485, HIPAA and GDPR.
This removes random variability and instead provides standardization, consistency and confidence - not only in data processing and handling but in all aspects of software development, functionality and maintenance.
A professional clinical decision support system will be designed and developed in collaboration with clinical users in order to create a platform that provides clinically relevant workflows. This includes the capture and surfacing of key parts of the decision-making process as auditable information, enabling full transparency for the user and compliance with regulations.
This in effect allows you to recreate an analysis, which is particularly relevant in genomics as re-interrogation of data is not uncommon due to the rapidly evolving nature of the field. For example, several publications (1, 2) have highlighted significant improvement in diagnostic yield (10% increase) by the re-evaluation of pre-existing patient data.


The power to process thousands of genomes
Genomic data is now the epitome of big data. In 2015 researchers speculated that by 2025 that between 100 million and as many as 2 billion human genomes could be sequenced representing four to five orders of magnitude growth in ten years (3)
Today this prediction seems reasonable based on the increasing number of national genome
sequencing projects currently being undertaken, notable examples of which are the UK 100,000 Genomes Project, and the All of Us project in the USA.
In order to support such initiatives, clinical decision support solutions are required not only to provide the user with the information required for rapid analysis and interpretation but also the underlying software architecture to do this at an unprecedented scale whilst still maintaining quality and accuracy.
For example, the UK 100,000 Genomes Project returns over 1,000 processed genomes weekly to the UK National Health Service for interpretation and reporting.
Finally, it is worth considering the pace of knowledge growth in genomics.
A clinical decision support platform, which allows access to up-to-date internal and external data sources, including live links to key resources, provides optimum flexibility and value as it allows users to leverage both their own patient population data and internal knowledge set and key external resources.
A platform which takes this further and allows networks of users to securely share data access and knowledge, for example in a multidisciplinary team setting, augments this capability even more to benefit an entire lab or genomic medicine service.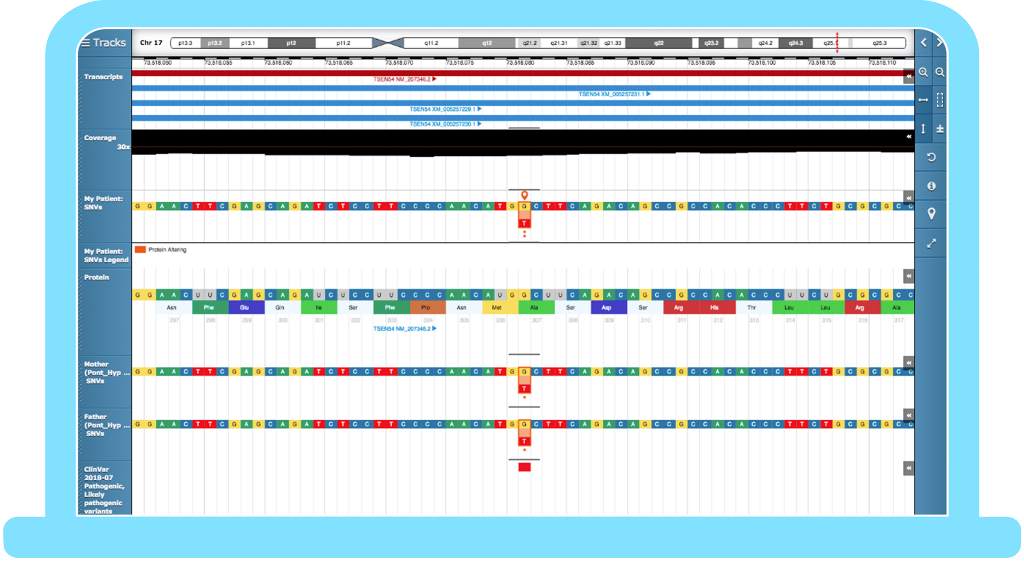 A world-leading solution
The availability of affordable and rapid sequencing has resulted in the realization of clinical genomics and precision medicine at pace.
The adoption and implementation of a high-quality clinical decision support platform is no longer a luxury, but a necessity to allow scientists and physicians to confidently deliver an efficient, reproducible, cost-effective and accurate genomic medicine or precision medicine service, providing life-changing answers for patients and their families.
Congenica is a secure, intuitive and scalable software platform, supporting rapid secondary and tertiary analysis of whole genome, whole exome and gene panel data.
Congenica is used globally by clinicians and clinical scientists in centers of excellence from the New York State Institute for Basic Research to Fudan Children's Hospital and as part of the Genomics England 100,000 Genomes Project. In addition, Congenica is the exclusive clinical decision support solution for the groundbreaking UK NHS Genomic Medicine Service.
Download the datasheet to find out more about the Congenica clinical decision support platform.
References
Wenger AM, Guturu H, Bernstein JA, Bejerano G, et al. Systematic reanalysis of clinical exome data yields additional diagnoses: implications for providers. Genet Med. 2017;19:209–214.
Wright CF, McRae JF, Clayton S, Gallone G, Aitken S, FitzGerald TW, Jones P, Prigmore E, Rajan D, Lord J, Sifrim A, Kelsell R, Parker MJ, Barrett JC, Hurles ME, FitzPatrick DR, Firth HV, DDD Study. Making new genetic diagnoses with old data: iterative reanalysis and reporting from genome-wide data in 1,133 families with developmental disorders. Genet Med. 2018; 20(10):1216-1223
Stephens ZD, Lee SY, Faghri F, Campbell RH, Zhai C, Efron MJ, Iyer R, Schatz MC, Sinha S, Robinson GE. Big Data: Astronomical or Genomical? Stephens et al PLoS Biol. 2015 Jul 7;13(7):e1002195)