Congenica Co-Founder and Chief Scientific Officer, Nick Lench, has been appointed to the
Board of Trustees of Epilepsy Research UK (ERUK). The news has been announced as part of #TrusteesWeek, an annual national event celebrating the vital contribution of trustees to the governance of charities.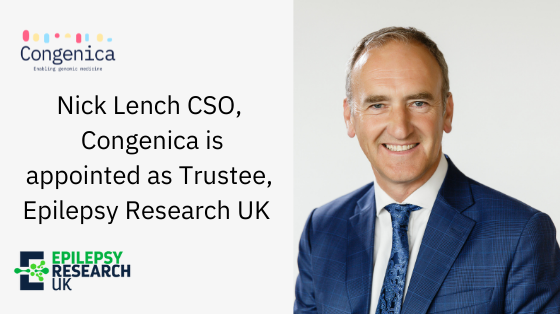 With a wealth of genomic, industry and entrepreneurial expertise, Nick will support ERUK as
it develops the Going Further strategy, a five-year plan to bring all elements of the epilepsy
community together and drive increased investment in research.
ERUK is the only charity exclusively dedicated to driving and enabling life changing, life-saving research into epilepsy. The charity's pioneering clinical research discovers ways to advance the medical care and management of people living with epilepsy and its lab-based scientific projects investigate causes and methods for improved diagnosis, treatment and prevention.
Nick Lench said, "I am delighted and honoured to be appointed as a trustee of Epilepsy Research UK. As the only charity dedicated to driving life-changing research into epilepsy, it plays a vital role in promoting awareness and advancing our knowledge of the condition, as well as providing critical support to patients. Epilepsy remains a problematic disorder to diagnose and manage and often the aetiology cannot be determined. Genetics and genomics have an important role to play in addressing this challenge, enabling early and accurate diagnosis and ensuring that as many patients as possible receive the most appropriate treatment for their condition."
Epilepsy Research UK Chair Professor Matthew Walker said, "We are thrilled to welcome
Nick to our charity. He joins us with extensive experience and expertise – including directorial
roles at the top of industry and over 25 years of academic, healthcare and commercial
experience in medical genetics and genomics – which we are certain will prove invaluable in
his new position as trustee."
Find out more about Epilepsy Research UK

Changing lives for the better

Congenica is a digital health company enabling genomic medicine with the world leading Clinical Decision Support platform for research use for the rapid analysis and interpretation of genomic data.

Built on a foundation of clinical expertise, we are driven to empower healthcare professionals worldwide to transform health and wellness, improving lives by converting genomic data into actionable information.
Our platform can analyze the entire human genome, to not only find the problem but go further, collect a wealth of information, trillions of data points, then interpret and understand every detail.
Find out how we help clinicians deliver life-changing answers for patients