Jump to: What is Rare Disease Day 2021? │ 28 Feb │ 27 Feb │ 26 Feb │ 25 Feb │ 24 Feb │ 23 Feb │22 Feb │ 21 Feb │ 19 Feb │ 18 Feb │17 Feb
---
Sunday 28 February 2021
A Rare Disease Day virtual hug from Luke Rosen, founder of KIF1A.org, a non-profit organisation working to discover treatment for KIF1A Associated Neurological Disorder.
This morning, Genomics England have released a blog, written by Dr Charles Steward about West syndrome – a rare epilepsy.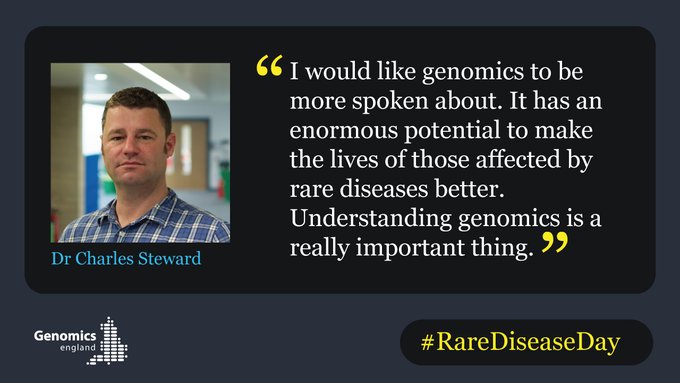 Dr Charles Steward is the Patient Advocacy and Engagement Lead at Congenica. He is also a member of the Participant Panel at Genomics England and the Simons Searchlight Community Advisory Committee, USA.
---

Saturday 27 February 2021

Friday 26 February 2021
Malisa Rust, Associate Director of Patient Engagement at PTC Therapeutics speaks to us about her Alpha-1 Antitrypsin deficiency, her family and the diagnosis journey.
Stay up to date with our Patient Advocacy and Engagement news

Thursday 25 February 2021
On the run-up to Rare Disease Day, Vivienne Parry, writer and broadcaster, Head of Engagement at Genomics England speaks to us about why "understanding the rare is key to understanding the common".

Wednesday 24 February 2021
Nuala Summerfield, founder of the Schinzel-Giedion Syndrome Foundation talks to us about Schinzel-Giedion Syndrome.
Nuala has a daughter, Ophelia, with a mutation in the SETBP1 gene. Schinzel-Giedion Syndrome is an ultra rare disease with around 100 cases world-wide.
Stay up to date with our Patient Advocacy and Engagement news
Tuesday 23 February 2021
This morning, Allison Watson, founder and CEO of the Ring20 Research and Support group UK, talks to us about r(20), a rare form of epilepsy. Allison has a son with r(20) and speaks about the karyotype chromosome tests and the importance of effective r(20) diagnosis.

Monday 22 February 2021
With less than one week to go before Rare Disease Day, Patient Advocacy and Engagement Advisory Board Chair, Alastair Kent OBE talks to us about the history of rare disease diagnostics and the gobalization of Rare Disease Day.
As well as the above video, Alastair Kent has written a blog for us on why diagnosis is so important for rare disease patients.
"Fortunately, in developed health economies, most children are born healthy. But, sadly, sometimes our biology lets us down and we have a child who is born with a life-limiting condition, either as a result of genetics or environmental issues or a combination of those or other factors."
---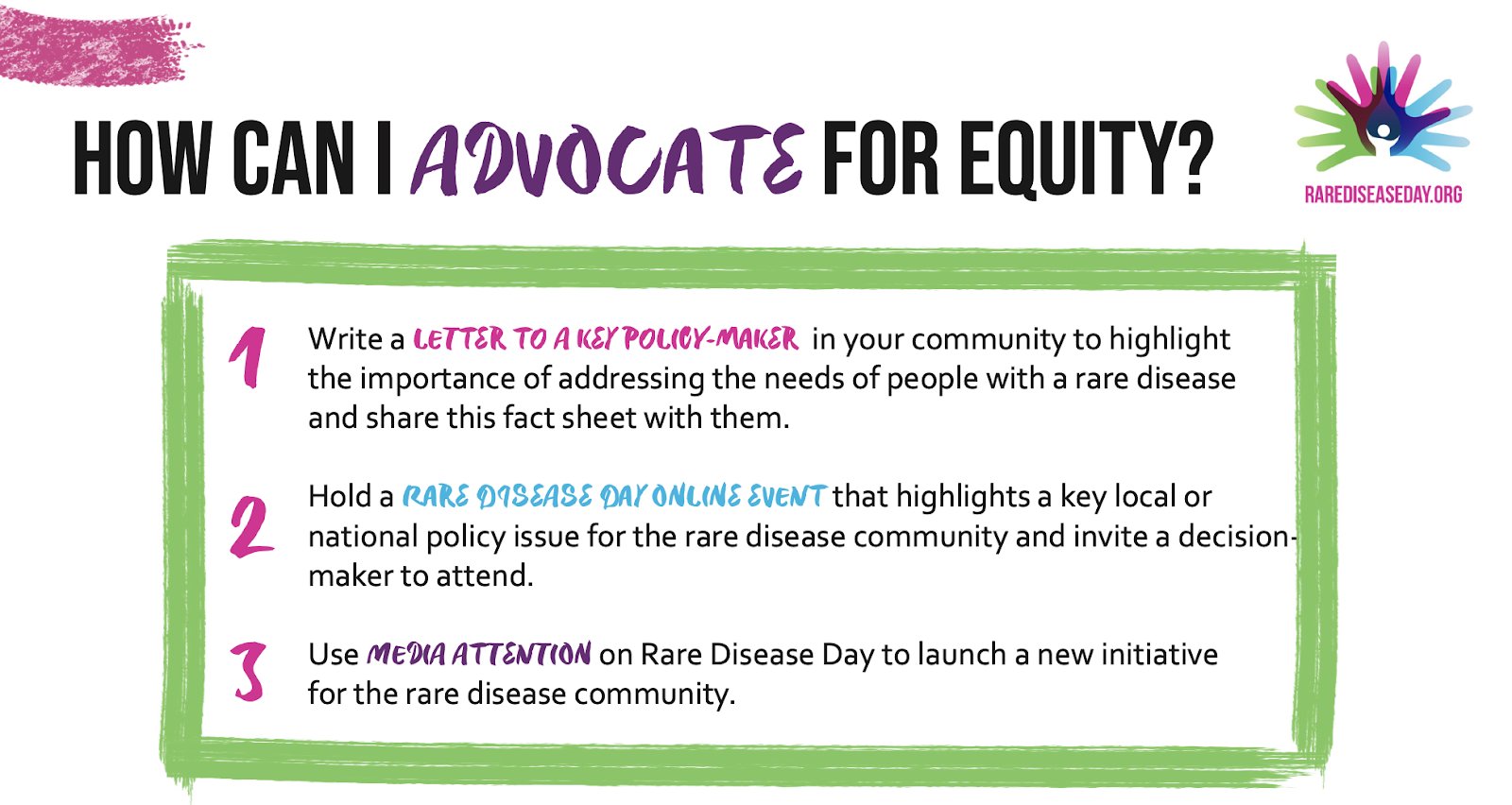 ---
---
Stay up to date with our Patient Advocacy and Engagement news

Sunday 21 February 2021

Friday 19 February 2021
Jeff D'Angelo, founder of the CHAMP1 Foundation shares with us his thoughts on Rare Disease Day, the community and his son, JJ.
CHAMP1 is an organization created for parents of children with developmental delay, hypotonia, cerebral palsy, autism, and epilepsy as a result of mutations in the CHAMP1 gene.
---
Did you know?
Leading advocacy professionals to ensure patient remains central to Congenica's approach
The role of the Patient Advocacy and Engagement Advisory Board is to be the critical friend of Congenica, ensuring we serve patients to the fullest of our abilities.

The board will inform our product development and communications to make sure they serve patients as best they can.

Board members will also help guide the development of helpful content about genomic medicine and the patient journey. Our goal is to become the go-to, trusted source of information for both patients and clinicians.
---

Thursday 18 February 2021
Lynsey Chediak, Project Lead at World Economic Forum discussing what rare disease and precision medicine means to her. #RareIsStrong #RareIsProud
---
It's great to see that Genomics England's G Word podcast from yesterday is still being well received.
---
---

Wednesday 17 February 2021
We start our build up to Rare Disease Day 2021 today with Charles Steward (PhD) chatting to Chris Wigley on Genomics England's G Word podcast, talking all things genomics.
"I would like genomics to be more spoken about. There's still a concern that genomics is going to be used to get rid of certain types of disorders, but it has an enormous potential to make everyone's lives better. Understanding genomics is a really important thing."
Listen to the latest episode of The G Word podcast below:

What is Rare Disease Day?
Rare Disease Day takes place on the last day of February each year. The main objective of Rare Disease Day is to raise awareness amongst the general public and decision-makers about rare diseases and their impact on patients' lives.

The campaign targets primarily the general public and also seeks to raise awareness amongst policy makers, public authorities, industry representatives, researchers, health professionals and anyone who has a genuine interest in rare diseases.

In the run-up to Rare Disease Day 2021 (28 February 2021), we will be compiling thoughts, news and opinions on the future of rare disease diagnostics right here on this page.

Share this page with your network using the below links to help raise awareness #RAREDISEASEDAY